HAO's Mauna Loa Solar Observatory (MLSO) has been operating since 1965, providing scientifically useful images of the Sun to solar researchers and the public.
K-Cor
The COSMO K-Coronagraph (K-Cor) is the newest instrument at MLSO. It is the first white light coronagraph to view the very low corona (down to 40,000 kilometers) outside of a total solar eclipse. Many explosive solar events form in the very low corona. K-Cor is designed to record the formation and acceleration of Coronal Mass Ejections (CMEs) and associated prominence eruptions.
CMEs, such as the close-up shown here, are the most spectacular form of solar activity. They are violent events that eject part of the Sun's outer atmosphere into interplanetary space and drive the largest geomagnetic storms at Earth.
K-Cor (here, seen inside of MLSO's dome) observes the region of the corona excluded by space-based telescopes, providing crucial information about CMEs. K-Cor observations are provided on the MLSO web page within 15 minutes of acquisition so they can be used for Space Weather forecasting.
H-alpha
Observing the Sun's chromosphere requires viewing in H-alpha light, produced by hydrogen atoms at temperatures between 5 and 10 thousand degrees Kelvin. H-alpha images show solar features such as prominences, filaments, moreton waves, and optical flares. Prominences are dense, cool structures that play an important role in the formation of solar activity known as coronal mass ejections (CMEs). An example of an erupting prominence that led to a CME is shown here, taken through an H-alpha filter at MLSO.
The figure below shows H-alpha images during solar maximum and minimum. During the peak of activity, many more filaments (long dark structures) and plage (bright features) appear due to the complexity of the magnetic field. At solar minimum, the global magnetic field is considerably less complex and fewer features are present.
H-alpha movie at top-right is provided by the Mauna Loa station of The Global Oscillation Network Group (GONG), a program to conduct a detailed study of solar internal structure and dynamics using helioseismology.
Featured Event: Coronal Mass Ejection
Coronal mass ejections (CMEs) are explosive events that eject part of the Sun's outer atmosphere into interplanetary space. These gigantic clouds of magnetized plasma can be expelled at speeds up to 3000 km/sec (nearly 7 million miles per hour) and can cause major geomagnetic storms if they pass over the Earth. They often occur with an erupting prominence and a solar flare. CMEs are best viewed in white light coronagraph images.
The animations above show a CME with an embedded erupting prominence from July 2, 2015. The CME eruption is visible in the MLSO K-Cor movie (blue). The red movie is provided by the MLSO CoMP instrument taken in an emission line of neutral helium that captures the ejection of cool prominence material.
The featured movie in the lower-right of October 14, 2014 CME uses imagery from SDO's AIA (inner), HAO's K-Cor (blue ring), and SOHO's LASCO.
Solar Dynamics Observatory AIA
The Solar Dynamics Observatory (SDO) is the first mission to be launched for NASA's Living With a Star Program, a program designed to understand the causes of solar variability and its impacts on Earth. SDO is designed to help us understand the Sun's influence on Earth and Near-Earth space by studying the solar atmosphere on small scales of space and time and in many wavelengths simultaneously.
The movie shown at lower-left uses images from the Atmospheric Imaging Assembly (AIA), an instrument aboard SDO which is designed to provide an unprecedented view of the solar corona, taking images that span at least 1.3 solar diameters in multiple wavelengths nearly simultaneously.
The above animation shows SDO AIA imagery for a full solar rotation (NASA).
Space Weather Summary
courtesy of SWPC at NOAA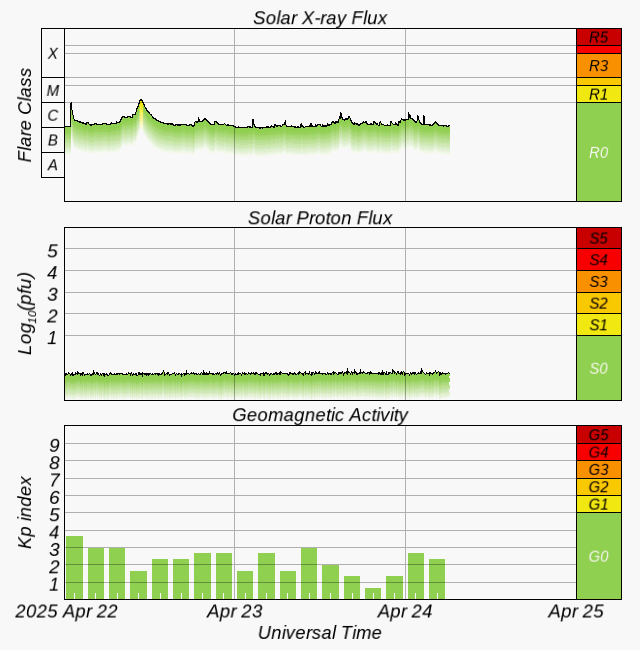 Did you know?
Did you know?
MLSO SKYCAM
Waiting for weather conditions update...